Why Do Veterinary Clinics Need a Blood Chemistry Analyzer
Why Do Veterinary Clinics Need a Blood Chemistry Analyzer
With the continuous improvement of people's living standards, a mounting number of families choose to keep pets. According to the American Pet Products Association, more than 68% of all households have pets in the United States. Meanwhile, the number of pets in China has ranked among the top three in the world in recent years.
The increase in the number of pets challenges veterinarian practitioners, which has higher requirements for the professionalism of veterinary practitioners. In order to provide more professional services, many animal hospitals or veterinary clinics are equipped with veterinary blood chemistry analyzer machine for a routine blood test of pets, so as to quickly and accurately detect the disease.
What is a veterinary blood chemistry analyzer?
The veterinary blood chemistry analyzer is to use chemical and biological technology to carry out chemical, electrolyte, and immunoassay tests on clinical samples (such as anticoagulant additives whole blood, serum and plasma) to detect the existences related to diseases or drugs. The veterinary blood chemistry analyzer is suitable for laboratories of research institutions, pharmaceutical, and biotechnology companies.
What are the advantages of a veterinary blood chemistry analyzer?
In the past, the blood routine test was analyzed by veterinary practitioners through a microscope, which is an entirely manual method. With the development of essential medicine and the application of high technology, the veterinary blood chemistry analyzer has become a primary means to replace microscopic examination for routine blood analysis.
One of the reasons behind the popularity of veterinary blood chemistry analyzers is that they help improve work efficiency and provide accurate and reliable results. A blood chemistry analyzer designed for veterinary clinics makes the whole analysis of blood cells faster. For example, Mnchip veterinary blood chemistry analyzer allows veterinary practitioners to complete up to 13 analyses of chemical tests in about 8 to 12 minutes.
In addition, there will be inherent errors in blood cell analysis, even for experienced veterinary practitioners. The accuracy error of the veterinary blood chemistry analyzer machine is even less than 1%, which greatly improve professional degree and increases the reliability of the results.
A veterinary blood chemistry analyzer provides a scientific basis for diagnosis and differential diagnosis of diseases. When the pets appear anemia, inflammation, viral infection, and other phenomena, it can provide a clinical reference for the diagnosis of diseases.
For veterinary clinical, laboratory testing is an essential part of the profit coming from. A veterinary blood chemistry analyzer can create considerable economic benefits and save labor and time cost. Since veterinary blood chemistry analyzers help veterinary practitioners provide more professional services, it stimulates the veterinary clinic to obtain more income streams.
What do you need to consider for a veterinary blood chemistry analyzer?
Whether you consider purchasing a new veterinary blood chemistry analyzer machine or replacing an existing one, you should consider the following factors to make the right choice:
Service life. Too long time for machines to be repaired will lead to a decline in the credibility of patients to the hospital; thus, service life counts to be a vital factor.
This is the most critical factor.
The hospital should decide which grade of the analyzer to buy according to its level so as to avoid causing a waste of instrument purchase.
Auxiliary equipment, reagents, consumables, and prices of spare parts.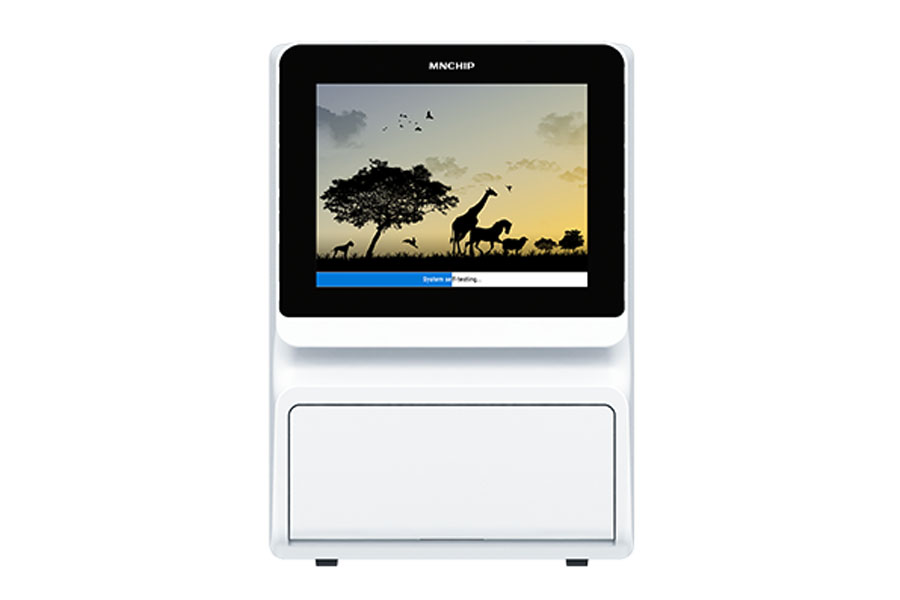 At MNCHIP, we are devoted to developing easy to use, safe, and high-quality diagnostic equipment. Our offer ranges from vitro diagnostic equipment for the medical and veterinary markets, with products covering Chemistry Analyzers, Hematology Analyzers, and Rapid Test Analyzers.
If you are interested in fully automated clinical chemistry analyzers or other services for your facility, our team welcomes the opportunity to assist you.