MNCHIP Automated Chemistry Analyzer: Micro Blood Test for Neonates
MNCHIP Automated Chemistry Analyzer: Micro Blood Test for Neonates
When neonates enter the NICU, frequent blood tests have become an integral part of disease diagnosis and treatment.
Low blood volume and difficult blood collection for newborns
Neonates have a low blood volume of their own, range from 50-100ml/kg (average 85ml/kg) for normal neonates and 89-105ml/kg for preterm infants. For example, a full-term infant with an average birth weight (3.3kg) has a volume of only about 280ml. In addition, the peripheral circulation of newborns is relatively poor and the blood viscosity is comparatively high, so the clinical situation of insufficient blood collection volume and difficulty in blood collection requiring repeated needling often occurs.
Do not disregard testing for blood loss.
Children entering the NICU require frequent blood collection for routine biochemical, electrolyte, blood gas, and routine blood tests to monitor important organ functions due to their condition, but frequent and excessive blood collection can have a significant impact on children, especially critically ill children.
Iatrogenic anemia due to test blood loss can increase the possibility of infection, cardiovascular and respiratory diseases, prolong hospitalization, and affect disease prognosis.
A study showed that the average total test blood loss during hospitalization in NICU children was 21.4 ml, an average of 6.1% of total autologous blood. Of all children in the NICU, 61.3% lost more than 5.0% of their autologous blood weight.
NICU patients are predominantly affected by aspiration pneumonia, preterm birth, and neonatal hemolytic jaundice, with preemies having the highest blood loss.
Blood used for biochemical testing tops the list of test blood loss.
Children often have tissue and organ dysfunction, complicated by electrolyte and acid-base balance disorders, so among them, liver function, renal function, cardiac enzymes, blood glucose, and electrolytes play a very important role and are routine check-ups for children in NICU.
Studies have showed that 31.49% test blood loss is used for biochemical tests, ranking first in the amount of blood used for all tests.
Biochemical tests accounted for 14.46% of the total number of blood collections, which is the third highest. This demonstrates that the amount of blood used per biochemical test is relatively high, about 2 ml/time.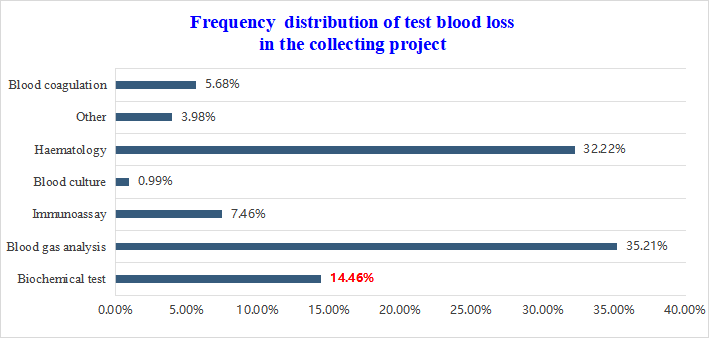 Thus, reducing the amount of blood used for biochemical tests is an important issue that needs to be addressed in the NICU without reducing the frequency of biochemical tests and the quality of treatment.
MNCHIP automated chemistry analyzer can reduce 75% blood volume for testing.
Mnchip reagent discs adopt microfluidic technology. The colorimetric holes around the discs replace the cuvette of a conventional blood chemistry analyzer, with a single volume of only 12μl (using only about 2μl of blood), which greatly reduces the amount of blood needed for the reaction compared with traditional blood chemistry analyzer. At the same time, multiple parameter indexes are integrated on one reagent disc. It is possible to achieve simultaneous testing of multiple indicators in micro blood by adding 100μl of blood sample at one time.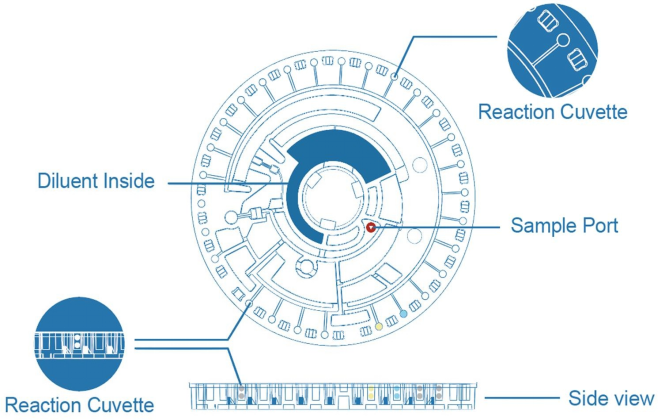 One analyzer, multiple functions
In addition, the Mnchip fully automated chemistry analyzer is capable of combining routine biochemical tests, such as liver and renal function tests, cardiac enzymes tests, blood glucose tests, etc., with electrolyte tests, blood ammonia tests, etc., in one automated chemistry analyzer, with different packages of reagent discs, realizing one machine with multiple functions and one blood with multiple uses, thus further reducing the amount of blood needed for testing.
At present, the Mnchip automated chemistry analyzer has been used in the NICU, and paediatric departments of many tertiary and secondary hospitals, providing doctors with rapid and accurate test results while significantly reducing the potential risk of iatrogenic blood loss.