Animal Chemical Analyzer Adds Bile Acid Items for Liver Function Testing
Animal Chemical Analyzer Adds Bile Acid Items for Liver Function Testing
To bring users a better user experience, MNCHIP is also iteratively upgrading the equipment and reagents of the animal chemical analyzer while developing innovative projects.
The liver function test disk of the automated chemistry analyzer is upgraded this time, and a new test item is added: Total Bile Acid (TBA).
Liver Function
Test Items(*is a calculated item)
Plasma Protein
TP
ALB
*GLO*
*A/G*
Liver enzymes
ALT
AST
Y-GGT
ALP
Bilirubin
TBIL
DBIL
*IBIL*
Bile Acid
TBA
Three highlights of liver function test upgrade:
A new member of animal chemical analyzer detection: Bile Acid (TBA)
Total bile acid (TBA) is a sensitive indicator of liver function, which can reflect bile duct obstruction and liver parenchymal damage. It has high practical value for the diagnosis, differential diagnosis and chronic liver disease monitoring of hepatobiliary diseases.
MNCHIP automated chemistry analyzer brings bile acid detection into the liver function detection disk, which makes bile acid detection one of the routine chemical detection items and enriches the comprehensiveness of routine liver chemical detection.
Liver function chemistry increased to 12 items, making the animal chemical analyzer detection more comprehensive and detailed.
The upgrade of the liver function disk made the number of measurement indicators of this disk as high as 12. The fastest detection time of the clinical chemistry analyzer is only 7 minutes, and the required sample size is only 100 μL whole blood, which greatly improves the detection efficiency of the chemical analyzer.
Liver function testing items increase but the price remains the same.
As a classic matching reagent of the animal chemical analyzer, the index configuration of the liver function test disk has been substantially upgraded, but the price of the clinical chemistry analyzer will not be higher than the original price of liver function. It is a comprehensive liver function test project with a low reagent price!
The importance of bile acid in animal chemical analyzer detection
Bile acid (BA) is a hydrophilic lipid steroid. It is the final product of cholesterol catabolism in the liver. It is synthesized by the liver and stored in the gallbladder. It is the main component of bile.
Total bile acid (TBA) is mainly composed of cholic acid, chenodeoxycholic acid, deoxycholic acid and lithocholic acid.
The role of bile acid (TBA)
After being discharged into the intestine, bile acids can break down fat into small particles, increase fat dissolution, and promote the digestion and absorption of fat and fat-soluble vitamins.
Enterohepatic circulation of bile acid (TBA)
Bile acids are mainly metabolized through the enterohepatic circulation, which means that bile acids are secreted into the intestinal cavity, and then return to the liver through the portal vein system at the end of the jejunum or ileum. About 95% of bile acids are absorbed back to the liver, and only 5% of bile acids are excreted through feces.
Clinical application of bile acid detectionIn the evaluation of the liver, bile acid is higher than other liver indicators because other indicators (including liver enzyme indicators, bilirubin indicators, protein indicators, blood cell indicators) will change in addition to liver disease.
Pathological increase
Clinically shows in:
Hepatocyte injury: acute or chronic hepatitis, obvious liver necrosis, cirrhosis, toxic liver disease, liver tumor;
Bile duct obstruction (intrahepatic or extrahepatic), cholestasis;
Congenital or acquired portal and vena cava shunt;
Treated with corticosteroids and anticonvulsants. Sometimes pathological changes also increase.
Pathological decrease
The pathological decrease of bile acid was found in delayed gastric emptying, increased intestinal peristalsis, intestinal obstruction, severe intestinal             malabsorption and ileectomy.
Sample requirements of the liver function test disk
Venous blood samples;
Anticoagulated whole blood without clot, or plasma/serum without hemolysis;
Heparin lithium is recommended as an anticoagulant;
The sample should be tested within 30 minutes after collection. If the test cannot be performed in time, the plasma/serum should be separated, stored in a tightly sealed container at 2~8℃ and protected from light, and tested within 24 hours.
Applicable models of the liver function test disk
Celercare V5 and Pointcare V series of Animal automatic chemical analyzer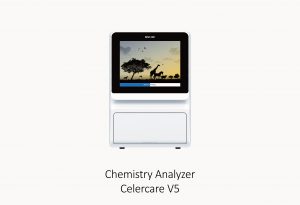 MNCHIP is one of the world's leading providers of microfluidics devices in in-vitro diagnostics. Established in 2010, we have manufactured on-site blood analyzers for the medical market and the veterinary market. We are committed to providing high-quality chemical analyzers. We are definitely your most reliable partner.